Cornwall has a nice range of luxury hotels, budget stays, boutique hotels and family run bed and breakfast places. Here is a list of some this charming English country's best hotels.
St. Edmunds House
St. Edmunds House is a modern and luxurious stay option located in Padstow. It is a few minutes away from dozens of Rick Stein's eateries, while still offering plenty of peace and serenity. Enjoy magnificent sunset vistas from the terrace overlooking a stately estuary.
Hell Bay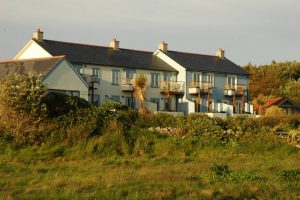 Hell Bay is a relaxed, easy-going hotel nestled above a rough bay that features all the trappings of a Scilly Island vacation. Visitors can avail of everything from custom-made textiles to global art-works to freshly sourced local treats. There is a beautiful and laid-back outdoor heated pool, where guests can be spotted skinny dipping for hours.
The St. Mawes Hotel
St. Mawes Hotel features refined, elegant rooms that look over an enclosed bay, set just above a busy bar and cinema. Clink glasses with other visitors and locals at the bustling St. Mawes bar smack in the middle of this peaceful Cornish fishing hamlet. The hotel is a pleasant fusion of English comfort with European chic.
Merchants Manor
Merchants Manor offers the stately comfort of an old-worldly country house by the sea. It is enormously stylish and is convenient for tourists looking for a base to explore South Cornwall. Apart from its quaint character, the accommodation option is known for its wellness facilities and rosette restaurants.
The Beach at Bude
A vibrant seaside stay, the hotel features a popular bar, which is a hub of activity in this sleepy town. Sip on a drink at sundown as you sit on the decorated terrace overlooking Bude's beach. The hotel is popular with surfing enthusiasts and beach lovers, and just about everyone looking for a laidback and relaxed yet chic and social able accommodation.